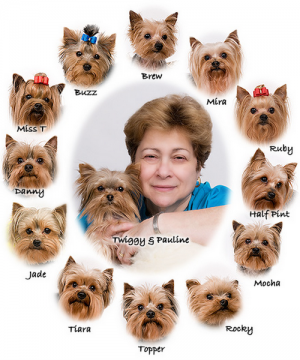 Welcome to Toybox Yorkies and thank you for visiting our website. We are loving breeders with more than twenty-five years of experience breeding Yorkshire Terrier puppies. Toybox Yorkies is proudly owned and operated in Hawley, Pennsylvania. We raise our Yorkies right in our home, providing them with constant love and attention. We do everything we can to make sure our puppies are social, happy, and healthy; that's why our Yorkie puppies always grow up to be wonderful pets!
Healthy, Robust Little Bundles of Joy!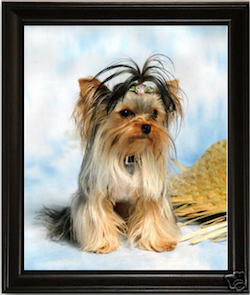 The Yorkshire terrier breed has long been a favorite of Americans and Europeans due to their small size, intelligence, personalities, and adorable expressions. Yorkshire Terriers are known for their incredible loyalty to their owners, preferring to stay close by their owner's side at all times. Yorkshire Terriers are ideal pets for people living in smaller spaces, as Yorkies do not need much room to roam. They also travel well and love attention and cuddling. We invite you to contact us today to find out more about the Yorkshire Terriers for adoption from Toybox Yorkies!
"New York Fashion Week Show"
Twiggy was asked to model in the NY Fashion Week show for Anthony Rubio Designs both Humans and Canines Couture yesterday 2/12/17. Her Jr.Model was Briella. The two instantly took to one another. Both really stood out with smiles and love.The event was held at Angel Orensanz Center (Foundation) at 172 Norfolk Street, NY, NY.
We drove through some Mornings snow in PA and then slushy conditions in NJ to rain and some ice pellets in NY to be there for our friend #AnthonyRubio
"Congratulations to Twiggy"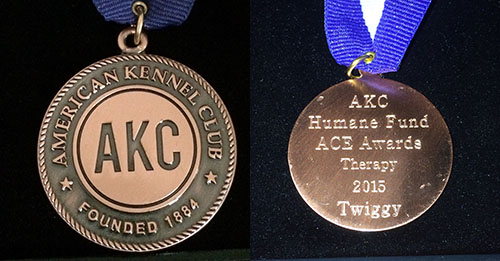 ACE (AWARD FOR CANINE EXCELLENCE)
Twiggy has received an Honorable Mention Award for her Outstanding Therapy Work in our Community. This award came from Hundreds of entrants who were nominated by their facilities for their work.
She goes to the Hawley Library as a Tail Waggin Tudor and promotes reading to boys and girls of all ages. She attends the Wallenpaupack North Primary Schools Title 1 reading program again helping students overcome reading issues. She has many visits at the Ellen Memorial Nursing Facility as well as the Milford Senior Home and Rehabilitation Center.
TO VISIT OUR AWARDS PAGE PLEASE CLICK HERE!
---
In The News
What is a dog breeder? [Read More]


Certified dog trainer brings canine friend to volunteer throughout Wallenpaupack area…[Read More]