TOYBOX YORKSHIRE TERRIER SIRES
Pedigrees and Photos can be emailed upon request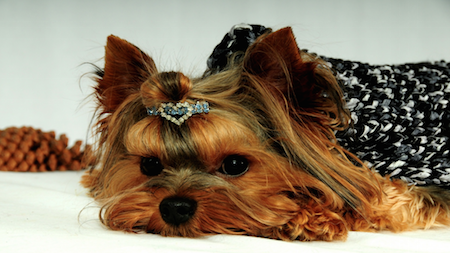 ~ TOYBOX'S TOP OF THE CHARTS OF EW ~
---
EDGEWOOD'S TWILIGHT GET YOUR MOJO ON. (AKA MOJO)
DOB: 12/28/20
SIRE: EDGEWOOD'S TWILIGHT SKY'S
DAM: EDGEWOOD'S THE NAUGHTY PRINCESS
---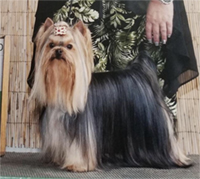 STACHE
CH. TOYBOX'S MY KISSES TICKLE
DOB: 7/23/16
SIRE: TOYBOX'S 'O' DANNY BOY
DAM: TOYBOX'S SPICED WILD MOCHA OF GAYLEE
STACHE is owned by Pauline Imbro-Allen and Madelyn Conley. He is presently being shown in conformation. Stache was shown in 4 shows and attained his Championship. We are most likely going to take him out for his Grand Champion Title. Keep you posted.
---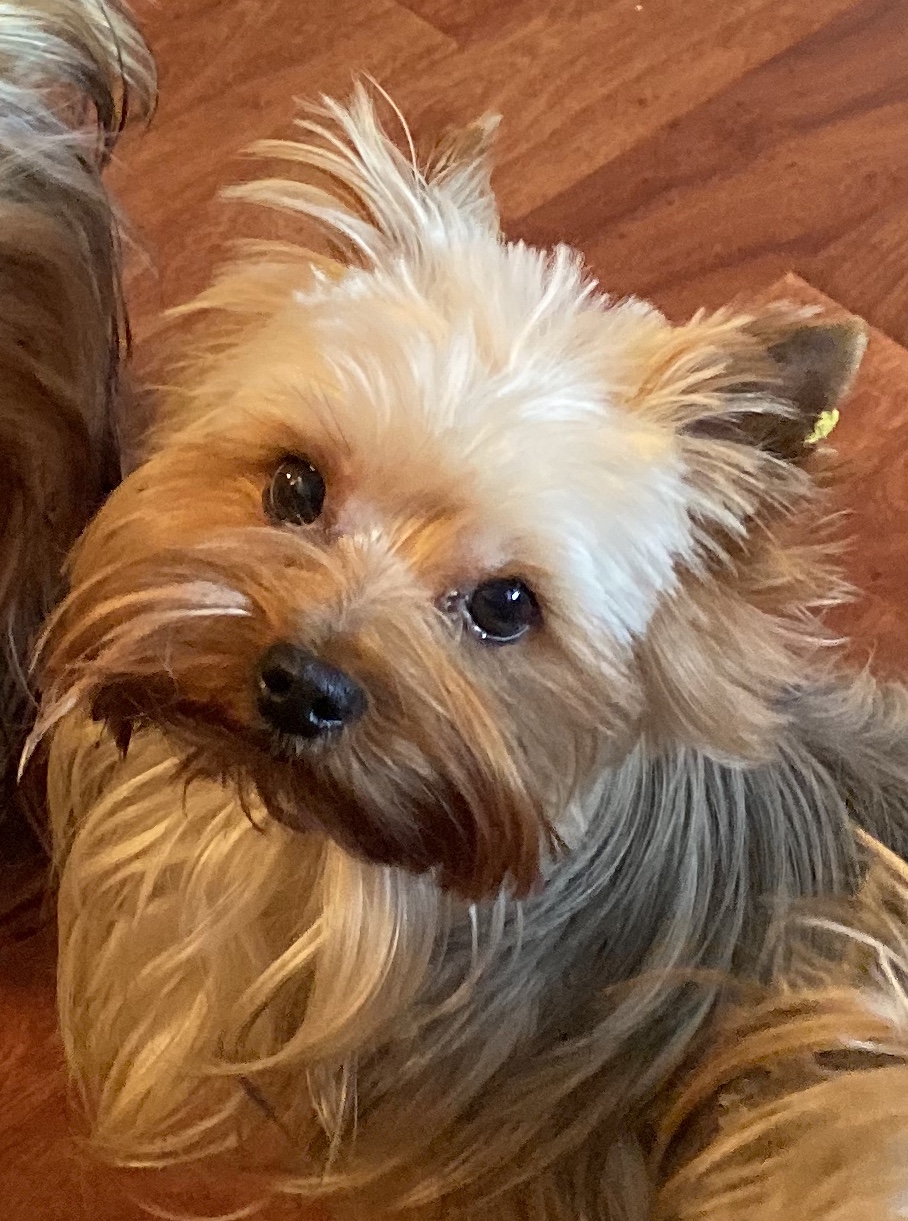 Nelson
MONTOURS BABY FACE NELSON
DOB: 5/2/2014
Sire: Sanston's One Cut Above
Dam: Ebaracum Violet Montour
Nelson came to us from our good friend Tammy Montour back in October 2019. We have high hopes of many beautiful litters to come with this boy.
---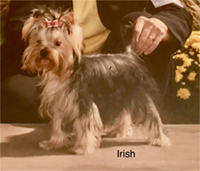 Irish
GAYLEE'S AND TOYBOX'S LUCK OF THE IRISH
DOB: 3-17-17
SIRE: GALANT'S KISS THE GIRLS AT TOYBOX
DAM: GAYLEE'S FREE N EASY
Irish is owned by Gayle Vogt and myself. He is the last sire kept from Lover Boy. He is presently being shown in Conformation and has a major and points towards his Championship.
---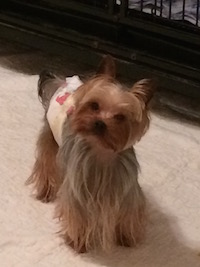 Lover Boy
GALANT'S KISS THE GIRLS AT TOYBOX
DOB: 2/26/2011
SIRE: GALLANT'S ROYAL RASCAL
DAM: GALLANT'S LUCY
Lover Boy was having weight and teeth problems. He is now a neutered male and has a wonderful new owner.

---
TOYBOX'S O' DANNY BOY (DANNY)
DOB: 3-17-2008
SIRE: TOYBOX'S TOP OF THE CHARTS OF EW
DAM: TOYBOX'S EXQUISITE JEWEL (RUBY)
O' Danny Boy – Grandson to Edgewood's Sky High Blue (#1 male in the USA2003). Danny has a wonderful temperament, and is sweet and cuddly. He has won at least one Best Puppy Award when he was out in the show ring. He was pulled only because of the changes in the Yorkshire Terrier Standard for coat color at 12 months. He was very dark but has outstanding coat color as an adult. He has beautiful Dark Steel Blue coat color – something most Show Breeders long for.
---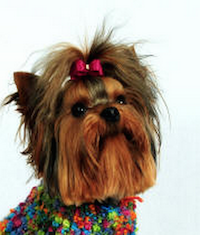 TOYBOX'S TOP OF THE CHARTS OF EW (TOPPER)
DOB: 11-16-2006
SIRE; CH. EDGEWOOD'S SKY HIGH BLUE (JAG)
DAM: EDGEWOOD HALF TIME AT TOYBOX (HALF-PINT)
Topper – Son of Edgewood's Sky High Blue has been placed in a new Forever Home. I love that I can drive over and see my wonderful boy whenever I want. He is still open to me for breeding so if you envision a litter with this boy just let me know.
---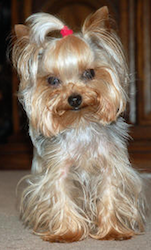 TOYBOX'S ROCK THE BOAT FOR GALLANT (ROCKY)
DOB: 7-29-06
DOD: 1-3-2017
SIRE: GALLANT'S SIR PHILLIP
DAM: AMEDURE'S WEDGEWOOD MACEY
Rocky is a very small 2.8oz Male who is cuter than cute! Just look at Him! We are trying very hard to get him to mate to one of our girls. Rocky has no desire to breed and will just be one of our sweet pets till his time on this earth comes to an end.
---
CH. TOYBOX'S MOCHA LATTE (MOCHA MAN)
DOB: 3-20-2006 DOD: 8-28-2012
SIRE: CH. EDGEWOOD'S MORNING MOCHA (BREW)
DAM: MONTOUR'S CHEROKEE BABY
Mocha is our very first Toybox Champion. Although Pauline has shown other dogs to their championship this is her first Toybox Champion. Mocha was shown at the Westminster Kennel Club dog show in New York's Madison Squre Garden in 2009. Although he did not take away any awards he did an outstanding job with all the other champions in the ring.
We are very sad here at Toybox because our Champion Mocha has died in August 2012. He had an accident and although didn't have major injuries he died of shock. We will always love and miss you my precious boy. I do have one of Mocha's daughters and hopefully puppies in the future.
---
CH. EDGEWOOD'S MORNING MOCHA (BREW)
DOB: 11-13-1997 DOD: 12-15-2012
SIRE: CH. DENAIRE ENTERTAINER OF EW
DAM: EDGEWOOD'S DREAM ON FAN-C
Brew was my very first champion in the Conformation Ring. Cindy, from the Edgewood Kennels showed him for the most part and i showed him occasionally as well. Brew is a very loving and special boy. Although he is getting up in age he is still the stud of the household. His son Mocha is now also a champion and will be able to carry on some of Brew's wonderful traits.
Brew had the most magnificent topline, coat color and texture. He maintained his color as you can see from his older picture in 2007.
Brew had a wonderful life and at the age of 15 his body had enough. We released him to the Rainbow Bridge where I hope to see him happy and healthy once again.
---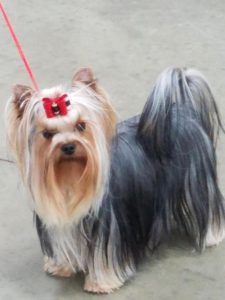 American Grand Champion and Canadian Champion Shanash Nightrider at Miracles
DOB: 09-27-2016
SIRE: Shan Yhaven Chasing Rainbows
DAM: Shan Yhaven Rumor Has It
---
Champion Edgewood's Rumbling Thunder at Gaylee (Kaboom)
DOB: 09-26-2010
SIRE: EDGEWOOD'S FAST N EASY
DAM: GAYLEE'S ENGLISH SUMMER
---

GAYLEE'S CHURCHILL BLUE
aka "Blue"
DOB: 09-03-2013
OWNER: Gayle Ackerman-Vogt
---
GCH CH CARASEL'S BETTINO
DOB: 09/17/2014
SIRE: GCH.CH CANTLON'S JER-REE'
DAM: GCH CH CARASEL'S BELADORA
OWNER: TERESA CUCHIARO
---
Gaylee's Free N Easy
DOB: 11-05-2011
SIRE: EDGEWOOD'S FAST N EASY
DAM: GAYLEE'S ENGLISH SUMMER
---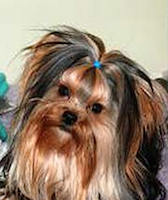 NATALIE'S OBVIOUS INTENTIONS (OWEN)
DOB: 6-20-2005
SIRE: NATALIE'S LITTLE LEWIS
DAM: NATALIE'S LITTLE CRYSTAL
Owen is a beaiftul Male owned by Tammy Amedure from Cooperstown, NY. He is the sire of Toybox's out on a limb (Twiggy) and her sister, Toybox's Mystic Jewel (Jade). What more can you say about Owen except he is as sweet as his picture!
---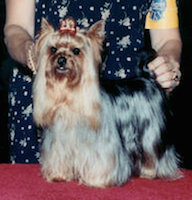 CH. EDGEWOOD'S TY TRACKER
DOB: 5-13-1998
SIRE: RUSSON DREAM WARRIOR
DAM: EDGEWOOD MISS MELISSA
---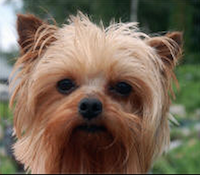 EDGEWOOD'S FAST N EASY (ZACK)
DOB: 11-19-2004
SIRE: CAVENDISH'S BLUE ANGEL
DAM: EDGEWOOD SKY'S THE LIMIT
Zach is a very cute little 4lb Male that Cindy from Edgewood Kennels uses in her breeding program. I fell in love with his size and cute face so we decided to try him with Toybox's Timeless Treasure of Ew (Tiara). We had 2 very beautiful male from that mating. Watch for Zack to be used in the future!
---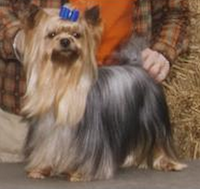 CH. EDGEWOOD'S HIGH ON A RISE (HYATT)
DOB: 10/24/04
SIRE: CH. EDGEWOOD'S SKY HIGH BLUE (JAG)
DAM: EDGEWOOD DREAM'S OF AMADEUS (SQUIRTIS)
Pauline had the pleasure of also showing Hyatt on and off throughout his show career. He is a very happy and bubbly boy with loads of energy. All of his offspring seem to take that energy to the max. They are so full of life!
---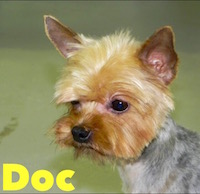 Edgewood's 12 O'clock High (Doc)
Doc came on loan to us from Edgewood Kennels, Cindy Hill. He was bred to KeepHer. They had 2 offspring, Jonsey, sold and is now called PeeWee and Captain Jack Morgan.
---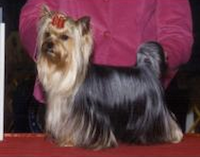 CH. EDGEWOOD'S AMEDEUS (LITTLE SQUIRT)
DOB: 6/26/2004
SIRE: CH. GALFRED'S ANGEL IN DISGUISE (BUZZ)
DAM: EDGEWOOD'S BUDDING BEAUTY (LIZZIE)
Owned by our friend Cynthia J. Hill of Edgewood Kennels. "Little Squirt" has not been used to sire a litter as yet but Pauline Imbro-Allen, owner of Toybox Yorkies, is proud to have been able to show him in Conformation and helped get his Championship. He will be used in Toybox Yorkies' breeding program in the future.
---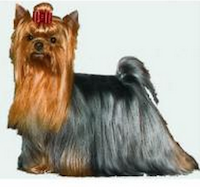 CH. EDGEWOOD'S SKY HIGH BLUE
DOB: 11-3-2000
SIRE: EDGEWOOD'S PUTTIN' ON THE RITZ
DAM: EDGEWOOD'S P.S. I LOVE YOU
Owned by Cynthia J. Hill of Edgewood Kennels. Jag was #1 male Yorkshire Terrier in the Country in 2003 and given an Award of Merit in the 2005 Westminster Kennel Club Show. Jag is the sire of Topper, pictured above and Tiara on our DAM'S PAGE. He is also the grandfather of many more born here at Toybox Yorkies.
---