TOYBOX YORKSHIRE TERRIER DAMS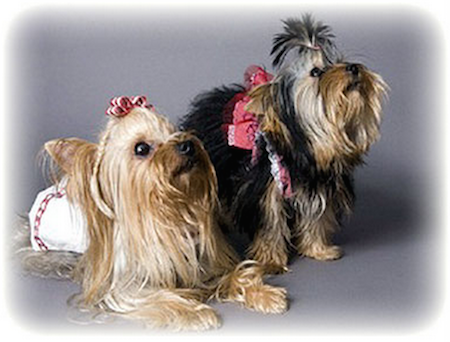 "Ruby" and "Twiggy"
Mother Ruby in foreground with her daughter Twiggy standing.
Photo Taken August 2007
Pedigrees and Photos can be emailed upon request
---
TOYBOX'S PRIMA BALLERINA (AKA NIKKI)
DOB: 2/6/19
SIRE: BABY FACE NELSON OF MONTOUR
DAM: TOYBOX'S MADE IN THE SHAYDE LA BELLA
Nikki was the first dog born at Toybox that does not have all her social skills down. She is what I call my COVID dog. She only knew the dogs here at home and little family that would visit. We have had her out in show handling classes now and although she is still scared initially she is doing well. Cannot wait to see what beautiful puppies she will throw.
---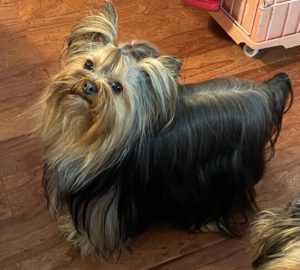 Toybox's Out on the Frontier. aka Mikayla DOB: 11/6/2018
Sire: CH. Toybox's My Kisses Tickle (Stache) Dam: Toybox's Made In The Shayd La Bella (Shayla Bella)
Mikayla is another beauty produced here at Toybox. Her sire is a Champion and finished his title in 3 weekends out in the show scene. Her dam is the most beautiful faced girl here at Toybox. I will have new photos of her when she is bred next time in litters due. Mikayla was scheduled to debut in April but due to the Pandemic all shows we're cancelled. I have very high hopes for her to finish quickly. She moves so well and loves to be out on lead. I'll update when we decide to show her or cut her down if this Pandemic goes much longer or returns in the fall/winter.
Mikayla crossed to the rainbow bridge due to pneumonia on 12/24/20. We deeply miss her and hurt very deeply by this loss.
---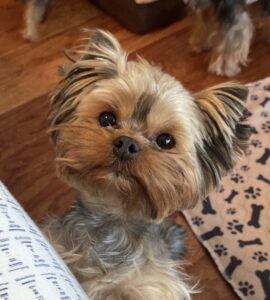 Meet Toybox's Made In The Shayd La Bella (aka Shayla)
DOB: 4/28/16
Sire: GCH Carasel's Bettino
Dam: Toybox's Can You Keep A Secret
Shayla will be 2 in April and is full of herself. She just had her hair combed and if we don't get a picture right away she has it all in her face in minutes. Her father was a Grand Champion and her puppies (when we breed her) should prove to be top notch. Her mother, KeepHer is pointed but pulled from showing when my husband was sick. Otherwise I'm sure she would have Championed as well. Keep watch for a litter.
---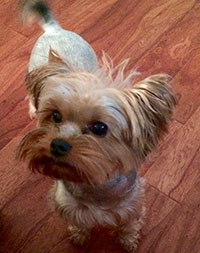 TOYBOX'S ALWAYS ON THE GOGO (GoGo)
DOB: 6-02-2013
Sire: TOYBOX'S O' DANNY BOY (DANNY)
Dam: TOYBOX'S TIMELESS TREASURE OF EW (TIARA)
GOGO is all her name says about her. She has so much energy and is always on the go. She looks so much like her Sire, Danny Boy. She is sweet and loves to give kisses. Puppies from GoGo hopefully will be coming soon. Check future litters for future information. (No longer breeding)
---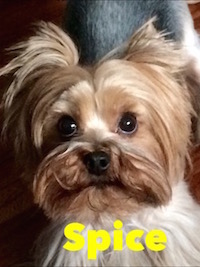 TOYBOX'S SPICED WILD MOCHA OF GAYLEE (SPICE GIRL)
DOB: 5-4-2012
Sire: CH. TOYBOX'S MOCHA LATTE
Dam: GAYLEE'S WILD CHILD OF ENVY (KELLA)
Spice, one of the last offspring from my Champion Mocha. She is a larger Female and hopefully will prove to throw some out standing siblings. Spice is an energetic but again very loving female. She is very playful and gets along well with all the other dogs her at Toybox. Hopefully we will be seeing some puppies from Spice very soon. Check future litters for further information.
---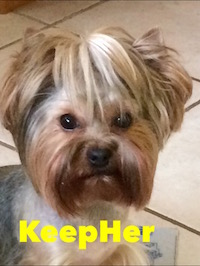 TOYBOX'S CAN YOU KEEP A SECRET (KeepHer)
DOB: 4-6-2011
Sire: Sire: TOYBOX'S TOP OF THE CHARTS (TOPPER)
Dam: Dam: TOYBOX'S MYSTIC JEWEL (Jade)
KeepHer was originally up for sale as a puppy but since she remained here for a while I decided to show her along with her brother Klueso. KeepHer is a stunning Yorkshire Terrier with a very cute expression, outstanding topline, beautiful Coat Color and Texture. KeepHer was also out in the show ring and has many blue ribbons and received a Best Puppy Award as well as Best of Winners and BOB. KeepHer is a wonderful mother to her puppies and will have future puppies – check future litters for further information.
---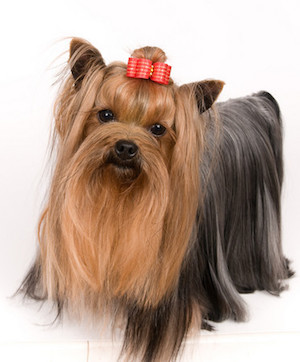 TOYBOX'S ROYAL TEA
DOB: 5-7-08
Sire: CH.TOYBOX'S MOCHA LATTE (MOCHA)
Dam: CH. JOLISSA'S BLUE DELICIOUS (OPHELIA)
Miss T proved to be a stunning female with beautiful coat color, texture and was given 2 majors in her first 3 times in the show ring. She finished her Championship making her parents Proud. Recently Miss T was placed in a loving home. She is making her new owner aware of her demands, such as what time to get up in the morning and what time she wants to be walked etc. I miss you very much but know you have a very loving owner all your own now. Love and kisses to you my special little girl.
---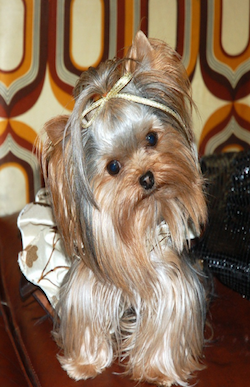 TOYBOX'S OUT ON A LIMB, CGC, BN, RN, THD, NW1, TDIA, TWT, CGCA
CGC- CANINE GOOD CITIZEN (AKC AWARD)
CGCA- CANINE GOOD CITIZEN COMMUNITY AWARD (AKC AWARD)
BN – BEGINNER NOVICE (AKC AWARD)
RN – RALLY NOVICE (AKC AWARD)
THD – THERAPY DOG (AKC AWARD)
NW1 – NOSE WORK LEVEL 1 (National Association of Canine Scent Work)
TDIA – Therapy Dog International Active (Therapy Dog International 50 visits)
TWT – Tail Waggin Tudor (Therapy Dog Int'l additional 100 visits – Children reading to Dogs).
DOB: 1-10-07
Sire: NATALIE'S OBVIOUS INTENTIONS
Dam: TOYBOX'S EXQUISITE JEWEL (RUBY)
TWIGGY – Received her name because when she was approximately 9 weeks she suffered a severe case of Low Blood Sugar (LBS). We went out on a limb with vet expenses to save her precious life. Since then Twiggy hasn't had any bouts of LBS except a little shaking when she doesn't eat on a regular basis. (much like humans).
Twiggy and her mother Ruby, as well as Miss T, have done some Modeling for Dogs.com. Twiggy has done numerous Modeling, Commercials and live stage events. In March 2012 she played Toto with the Goshen Performance Group at Goshen High School. She has appeared in Dogs 101, The Yorkshire Terrier on Animal Planet. March 2015 she will play Willoughby in the play Mary Poppins again with the Goshen Performance Group. She is currently working on her NW2 level in Nose Work. Check back often to see all her wonderful accomplishments. You don't have to be a big dog to do BIG THINGS! TWIGGY weighs all of 3 ½ lbs.
---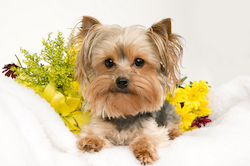 JADE TOYBOX'S MYSTIC JEWEL
DOB: 1-10-07
Sire: NATALIE'S OBVIOUS INTENTIONS
Dam: TOYBOX'S EXQUISITE JEWEL (RUBY)
Twiggy's full sister – was 5 ½ lbs. and was out in the Conformation Ring. She had beautiful Conformation but she didn't like the show scene. We decided to stop showing her and made her a house dog. She went on to have beautiful puppies until 2014. She was retired and went to a wonderful home in Philadelphia. Jade is loving being an only dog now and getting undivided attention. Miss you Jade
---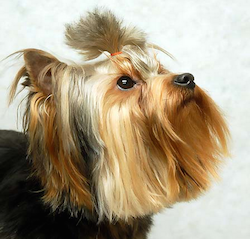 TOYBOX'S TIMELESS TREASURE OF EW (Tiara)
DOB: 11-16-06
Sire: CH.EDGEWOOD'S SKY HIGH BLUE
Dam: EDGEWOOD HALF TIME AT TOYBOX
Tiara is one of our very special girls. Loves to cuddle and nuzzle up. Watch out for paper though, she is our very own paper shredder……..She has a very sweet and soft temperament. Full Sister to Topper, mother of GoGo. (No longer breeding)
---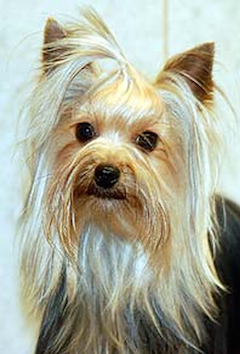 TOYBOX'S ALL THAT JAZZ – (JAZIE)
DOB: 10-23-06
sire: NATALIE'S OBVIOUS INTENTIONS
dam: MONTOUR'S CHEROKEE BABY
Jazie came to me from Tammy Amedure, of Montour Kennels. Jazie was very sweet but had a skin problem so we didn't breed her but placed her with a loving Mom in Newburgh, NY.
---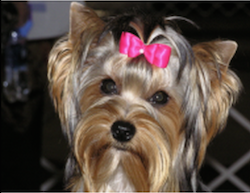 EDGEWOOD HALF TIME AT TOYBOX
DOB: 2-6-06
sire: CH. EDGEWOOD'S MORNING MOCHA (BREW)
dam: EDGEWOOD BUDDING BEAUTY (LIZZIE)
Half Pint was born on Superbowl Sunday right in the middle of the Half Time Celebrations, hence her name was derived from this. But one of the best Moms I have had here at Toybox. Half Pint now lives with a very good friend of mine and I get to see her from time to time.
---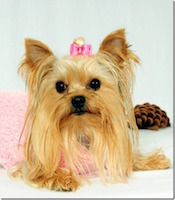 TOYBOX'S EXQUISITE JEWEL (RUBY)
DOB: 6-26-04
DOD: 1-24-2017
sire: CH.EDGEWOOD'S BODACIOUS KINGSLEY
dam: EDGEWOOD'S EXQUISITE BLEND (DEMI)
Ruby was my first Toybox Yorkshire Terrier, and my little miracle pup. Ruby has the most outstanding personality outside of one of her daughters, Twiggy, that everyone who meets her wants one of her pups. Ruby has done some TV spots and Modeling for Doggie Couture Clothing Lines such as Deni Alexander, Doggie Designs by Ada Nieves and Global Dog Designs. Ruby is shown modeling sweaters throughout the website as well.
---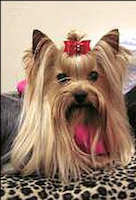 EDGEWOOD'S SKY HIGH REFLEC TION (MIRA)
DOB: 3-6-03
sire: CH.EDGEWOOD'S SKY HIGH BLUE
dam: EDGEWOOD'S DREAMS ARE MAGIC
Mira had 9 points in the Conformation Ring with a 4 pt. major. We pulled her to have puppies but unfortunately she never did. Mira was spayed in 2008 and will remain here as my protector (ASK ME). She now lives with a good friend of mine along with Half Pint.
---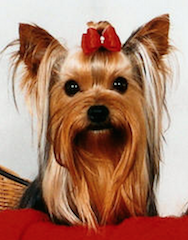 EDGEWOOD'S EXQUISITE BLEND
DOB: 8-10-02 TO 6-26-04
sire: CH. EDGEWOOD'S DREAM ON WARIOR (JERAMIE)
dam: EDGEWOOD'S GROWING BEAUTY
Demi was showing in the Conformation ring and was pointed when we decided to breed her. She gave birth on 6-26-04 to Toybox's Exquisite Jewel but had complications and died later that evening. The puppy was given to another Yorkie Mother to raise, which turned out to be her Great Grandmother (Lizzie). Demi was a very sweet girl and if it wasn't for having her puppy Ruby I was extremely heart broken over her death.
---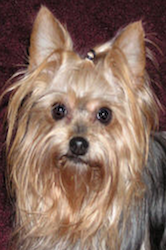 TOYBOX'S TINY LIL TEA LEAF
DOB: 1-03-96
sire: EDGEWOOD'S MIGHTY McINTOSH
dam: EDGEWOOD'S SWEET DREAMS
T-Lee has been adopted by a family living in PA. 5 months of the year and North Carolina the remaining 7. I still groom her once a year when they come to PA. and she and Brew get to play with each other for a few hours.
---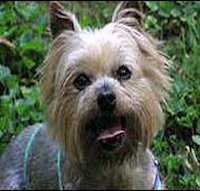 EDGEWOOD BUDDING BEAUTY (LIZZIE)
DOB: 6-17-95
Sire: CH. RADNORS AMADEUS
dam: EDGEWOOD SMOOTH MOVE TO AMI
Almost all of the foundation lines here at Toybox revert back to Lizzie. This is the Great, Great Grandma to Twiggy and Jade. The Great Grandma to Ruby; The Grandmother to Demi…She is also the Mother of Half Pint; Grandmother of Topper and Tiara. She is the oldest dog here at Toybox Yorkies. Lizzie came to us from Cynthia J. Hill, Edgewood Kennels when Ruby was born. She had a litter the exact same day so when Ruby's Mother died, Lizzie Fostered Ruby along with her own 4 puppies. (Little Squirt is one of the 4 puppies born 0n 6-26-04)
---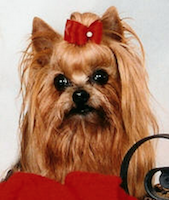 U-CD EDGEWOOD'S LySANDRA UD, C-CDX,HIT
DOB: 1-19-90 TO 10-04-04
Sire: CH. EDGEWOOD'S GIDEON
dam: EDGEWOOD'S JUST-N-TIME
McNugget was my very first Yorkshire Terrier. I did Obedience work with her up until she was 13 1/2 yrs. old. McNugget taught me so much about the heart of a Yorkie, the spunk of the Terrier, the bonding we could share and the unconditional love of a dog. What more is there? She is the reason I have continued on with the Yorkshire Terrier Breed and now show and raise them. Always trying to breed a better dog.
---