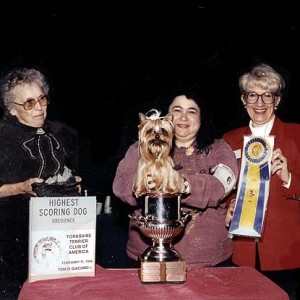 Pauline Imbro-Allen has been a dog lover throughout her entire life. She acquired her first Yorkshire Terrier in 1990 and was immediately head over heels in love with this small but spectacular Toy Breed. McNugget (pictured below and throughout the site) was Pauline Imbro-Allen's first Yorkie. Together they won numerous Titles and Awards. She has owned, shown and bred Boxers as well.
Pauline has been breeding and showing her Yorkies in Obedience, Rally, Confirmation and recently Nosework since 1990. Some of her Yorkshire Terriers have gone on to train in the field of Therapy work as well as becoming Spokes Models for Designer Doggie Couturers such as Ada Nieves For Dogs, Linda Higgins Couture, Designs by Tammy Peace and Global Dog Designs, Inc. Her little Yorkie, Twiggy has also been shown on Animal Planet's Dogs 101, the Yorkshire Terrier Episode (what else!), Played the role of Toto in The Wizard of Oz for the Goshen Performing Arts, played Willoughby in the production of Mary Poppins, also for the Goshen Performing Arts.
Pauline has over 32 years experience in Dog Obedience Trainer as well as Behavioral Modification. She is a member, in good standing, of the Yorkshire Terrier Club of America, First Dog Training Club of Northern NJ; the Tri-State Dog Obedience Club of PA. She is also an evaluator for the AKC Canine Good Citizen Department as well as an Evaluator for Therapy Dog International. Pauline has attained certification with Pet Tech CPR and First Aid as Instructor #1510. She holds classes for Kennel Clubs, Obedience Clubs or Training Centers teaching the common Pet Owner as well as up to Professional Handlers, what to do in case of a K9 Emergency. Some things taught are Muzzling, CPR and Rescue Breathing, Poisoning; Bleeding and general condition of your pet.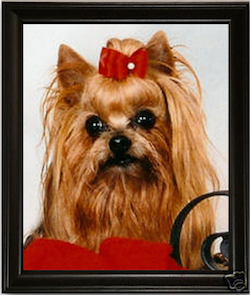 She has continued her education in Canine Obedience by attending seminars and sessions working with such notable authors as Diane Bauman, Gerrianne Darnell, Terri Arnold, Andrea Vaughn and Anne Paul. She attended a seminar given by Ian Dunbar on Canine Reproduction. After being introduced to the National Association of Canine Scent Work, she has titled her 3 lb. Yorkshire Terrier, Twiggy in NW1 and they are working to attain NW2 status hopefully this year (2015). She has also attended numerous seminars with qualified trainers and professionals in the field of scent detection dogs, including Amy Herot, and Barbara Schwerdt, both founders of NACSW in California. Handle It! With Amy Herot. Inaccessible Hides by Barbara Schwerdt. K9 Teamwork: From Foundation to Trial Day with Amy Herot. Scent Theory & How it Applies to K9 Nose Work with Donna Hrenuik. Understanding Olfaction and Odors with Fred Helfers Revitalize Your Training with Amy Herot. Pauline will continue attending seminars to broaden her knowledge and expertise in any of the fields she is currently working her dogs. She has also attended a couple of seminars in Freestyle, and Tricks to Freestyle, Treibball and Acupressure and Aromatherpy with Kristy Boki.
Feel free to contact Toybox Yorkies and Pauline Imbro-Allen through our confidential CONTACT PAGE with any questions you may have about Yorkshire Terriers, her quality breeding program and expert dog-related services.